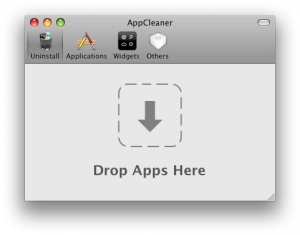 My first real introduction to un-installing applications on OS X happened when I decided to install a Spyware application onto my test machine.  As is typical of Windows based malware applications, it did not un-install completely.  There were multiple files that it very kindly left behind for a user to try and clean up after.
But what about other types of applications on OS X?  Most tend to un-install smoothly but as the developer base is growing there are more applications surfacing that do not remove themselves completely, either intentionally or unintentionally.   This is were AppCleaner comes in.
AppCleaner is a little application that when you drag an application to it to be removed it searches for all the remnants of that program and removes them.  With it's drag and drop interface even your average Mac user can quickly figure out how to use it.
The application itself is free but if you like it make sure you send a few bucks his way, it's totally worth it.
Check It Out> AppCleaner via I Occupy Space