Top 10 Application Launchers for Windows
When it comes to application launchers most people are only familiar with the Windows default, Explorer.  Thankfully this is not the only option out there and many of them work so well with Windows and Explorer that it can be hard to live without them once you have started to use them.
1 – Launchy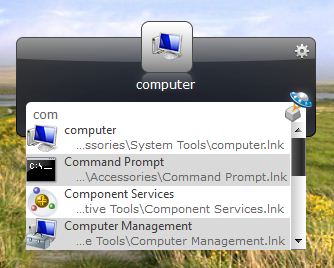 I have to admit that I love this program.  It is incredibly easy to use and well thought out.  As most good projects go it was designed for personal usage by some talented programmers.  Thankfully they have made it available to the rest of us so we can enjoy the fruits of their labor.  The reason it is number one on the list is quickly realized once you start using it.  It is substantially more user friendly than others and even the most non-technical of Windows users can intuitively use it. – Website
2 – Find and Run Robot (FARR)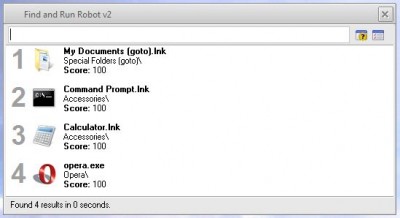 This one comes in second only for one reason, it is not as easy to use to search google.  The program is very intuitive and easy to use with plenty of options.  It is also fully portable and as such is a great addition to your pendrive. – Website
3 – RocketDock

The original OSX dock emulator, RocketDock can be either a launcher in addition to Explorer or a full replacement.  This one has a very large following which includes a multitude of plugins and skins to endlessly customize it.  I have used it for a couple of years now and I have found it to be an excellent shell/launcher for Windows PE. – Website
4 – CodySafe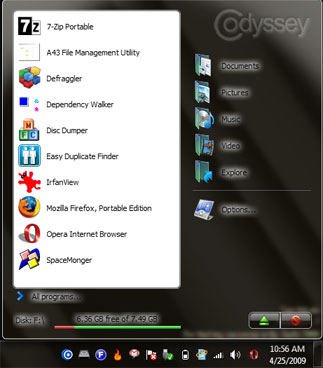 While not the first application launcher designed exclusively for pendrives it is the one that does it best.  It is like U3 without all of the problems associated with it.  It runs an installation program to install to your pendrive and sets up a Documents folder and autorun settings.  It also has many cool features including Drive Doctor and Find If Lost that put it above the rest.  – Website
5 – ASuite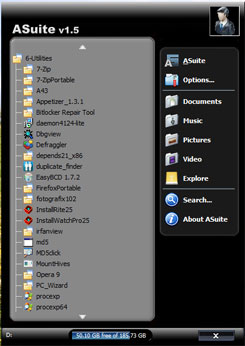 This launchers claim to fame is that it is the default for PortableApps.com users.  It does not have as many options as others on this list and could have more eye-candy but it works very well.  My favorite part about this application is that it is more of a supplemental Start menu.  It has many of the same features but works great with Windows and other applications. – Website
6 – Appetizer

Incredibly simple and easy to use, this launcher is starting to get a lot more attention.  It has not been around very long but there is support for custom skins and plugins.  It can either be installed or portable and is very small in size. – Website
7 – Executor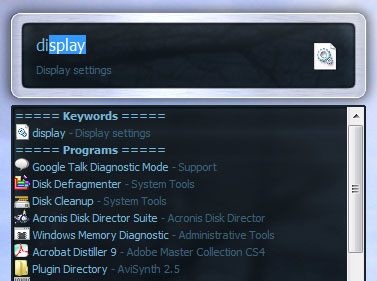 Best described as a Windows Run Command on steroids, this one adds some very nice functionality to Windows.  Again this one lacks some of the eye-candy even with the skins that are available.   It tends to be more geared towards geeks and has many advanced options that only they would utilize. – Website
8 – Enso
Beautiful and obviously designed by someone that is very concerned with typography.  This one gets a lot of points for looks but fails when it comes to overall functionality.  To open something you need to be specific and use a command like "Open Windows Explorer".  It does have some excellent features but misses the boat by taking more keystrokes to use. Enso has a tremendous amount of potential and could easily reach spot #1 on this list if they listened more to consumers. – Website
9 – ObjectDock

Coming from Stardock, there is both a free version and a paid for version.  ObjectDock is a pretty widely known application with a lot of support and features but it fails due to 2 major issues.  First it is not compatible (yet) with Windows 7 and second, it is HUGE!  The free download package comes in at 23 MB and regardless of features is too big for either a launcher or a shell.  The next closest in size to ObjectDock is Enso at 12 MB. – Website
10 – SyMenu
The biggest thing I like about SyMenu is its portable capability.  There are a few advanced options but is more limited than others due to it's intended audience, pendrives.  One thing I would like to see from SyMenu is more options and better looking graphics.  Just because someone is a Windows user does not mean that they should always have their applications look like Windows 98. – Website
Honorable Mentions:
RK Launcher
SideSlide
Cairo (Not in the public release stage yet)
Keybreeze
Ctrl+Alt+Launch (CAL)
About The Author
LeadGeek
Having been in the consumer IT support industry for more than 15 years, Paul has spent his career helping every day people use technology and overcome various issues they encounter.